News
The UniGe contribution for the Coronavirus emergency - #UniGenonsiferma
21/04/2020
---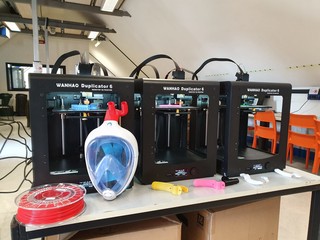 To contribute to the Coronavirus emergency, a team of three UniGe PhD students in Architecture and Design, led by Prof. Niccolò Casiddu, Director of the Department, are trying to recreate with 3D printing some useful and necessary elements in the health sector.
Francesco Burlando, Annapaola Vacanti and Xavier Ferrari Tumay, inside the dAD's computer lab, are printing adapters to transform Decathlon diving masks into respirators and protectors for healthcare staff and making prostheses for handles that allow doors to be opened with the elbow.
"The project that these guys are carrying out is to say that the University, in case of need, makes itself available to the Liguria Region and the Civil Protection to help according to its skills" explains Luca Sabatini, rector's spokesman.
To learn more please visit the useful link and watch the video of the interview.
This is an automatic translation