News
Lucia Del Mastro honored by the President of the Republic
28/10/2022
---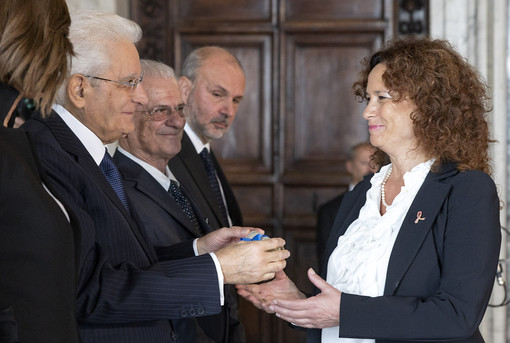 Lucia Del Mastro was honored at the Quirinal Palace by President of the Republic Sergio Mattarella with the prestigious biennial 'Guido Venosta' Prize at the opening of AIRC Foundation's Research Days.
Professor Del Mastro is a UniGe professor of medical oncology, director of the School of Specialization in the Department of Internal Medicine and Medical Specialties at the University of Genoa, and director of the Medical Oncology Clinic at the Policlinico San Martino Hospital in Genoa.
The award, an important recognition that AIRC gives every two years to a researcher or investigator distinguished for bringing an effective innovation in cancer treatment, was presented to Professor Del Mastro "for identifying an effective treatment for the medical-oncological therapy of young breast cancer patients and a new method of fertility preservation that, having entered international guidelines, have brought significant improvement in survival and quality of life."
(Photo credits: Quirinal)
This is an automatic translation